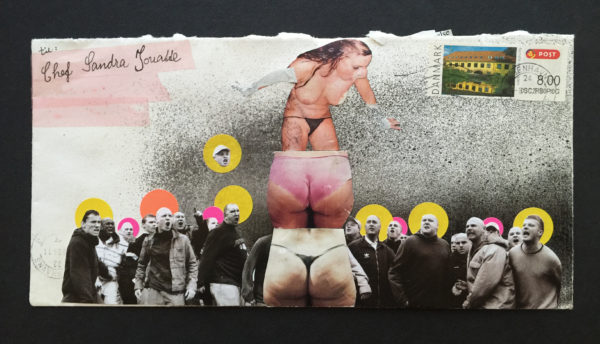 One of my absolute favorites from BOSS is this envelope. Front is titled: "FCK-Røvtårn" meaning FCK Ass Tower (FCK is a Danish top league soccer team). I never saw asses stacked into a tower before but this constellation makes bizarre sense to me. I assume the crowd is angry because top lady's ass is too small.
bro-bro-brille-by-BOSS-2
Back is called "BROBROBRILLE MED KVINDE & REJER". Bro Bro Brille is the Danish equivalent of London Bridge is Falling Down. So it sort of translates into London Bridge is Falling Down with woman & prawns.
I'll call it an advanced + adult version of this singing game.
Inside the envelope was this little love letter:
IMG_6740
"Karsten's cure for cows with collywobbles is dried herbs – and clearly the cow in the picture is eager to try"
IMG_6741
"Hm, turquoise or blue top?" Editor Helle can't seem to make up her mind
"Welcome to the frontpage! Blond hair, a top as blue as the sky and bare feet. Let's shoot the summer frontpage!"
"Fashion-Charlotte adjusts Emilie and then she's ready for the flashlights"
dogfaces-by-BOSS
And for the grand finale an old photograph transformed into a dog faced party
– I ♥ BOSS